Richmond, VA – The American Council of Engineering Companies of Virginia (ACEC) presented the engineering team of RK&K the coveted 2018 Pinnacle Award for Engineering Excellence for the Virginia Department of Transportation (VDOT) Route 29 Solutions Design Build project located in Albemarle County, Virginia. The Pinnacle Award is the highest honor given by ACEC Virginia, which recognizes projects demonstrating innovation, complexity, achievement, and value to the industry.
RK&K worked in partnership with VDOT and the contractor LANE/Corman Joint Venture to deliver the Route 29 Solutions project which consisted of three distinct project elements, Route 29 and Rio Road Grade Separated Intersection (GSI); Route 29 Widening from four lanes to six lanes for approximately 1.8 miles from Polo Grounds Road to Towncenter Drive; and Berkmar Drive, an extension of 2.3 miles on new alignment from Hilton Heights Road to Towncenter Drive. RK&K was supported in design by three major subconsultants, Whitman Requardt and Associates, Rinker Design Associates and Schnabel Engineering. This award focused on the Rio Road GSI, in which RK&K was the design leader. The innovations developed during design led to early completion and opening of the intersection and has led to improved safety and mobility in this heavily traveled corridor.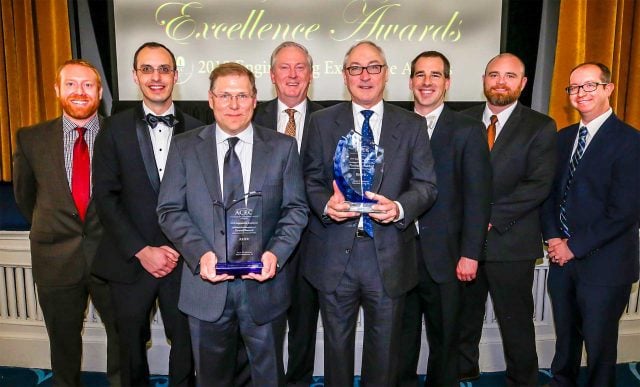 "The teamwork and Partnership on this project was second to none," said Richard McDonough, LANE Construction's Senior District Manager. "The success is a shining example of total commitment and buy-in from the design team, VDOT and the Contractor. If any party in this group lost focus and stopped pulling together, the Rio Road/Route 29 Solutions project would have failed. Congratulations to the team, well deserved."
This project is a credit to the entire team which included many staff from RK&K, the contracting team of LANE/Corman Joint Venture, and VDOT. Owen L. Peery, the Lead Designer with RK&K, along with Hal Jones with VDOT accepted the award at the annual Engineering Excellence Awards (EEA) Gala held at the Jefferson Hotel in Richmond, Virginia on February 1, 2018.
"RK&K is so proud of Owen and the entire project team on a job well done," said Mimi Kronisch, Partner. "Such an achievement is a testament to our dedication and commitment to improving transportation in the Commonwealth of Virginia."
Ready to work with us? Let's get started.