The newly formed Association for Materials Protection and Performance (AMPP) recently awarded water/wastewater engineer Nick D'Angelo the Recognition of Service in the Establishment of AMPP award for his work with the organization. We sat down with Nick to discuss his role at RK&K, his past and future work with AMPP, and how he is doing his part to build a diverse, inclusive engineering workforce.
What does your everyday role at RK&K look like?
I have had the opportunity to hit the ground running at RK&K. The last two months have been incredible, and I have been given the opportunity to find my footing within our group!
In my role, I'm assisting with various aspects of water and wastewater design, including asset planning prioritization, water main rehabilitation, and external corrosion control program management. The other component of my role involves field inspections and failure analysis. Field work is a highlight of my job. Trips to the field provide the opportunity to translate 2D drawings and details into real world assets. This provides better perspective and insight into on how designs come together and helps bridge the knowledge gap between the contractor and design engineer, also, crawling around in water mains is thrilling!
What is your involvement with the Association of Materials Performance and Protection (AMPP)?
I am currently the Vice-Chair of the Pre-Professional Program Committee and have been in this role for a little more than a year. I had the opportunity in 2020 to assist with the transition and merging of the legacy professional societies, the National Association of Corrosion Engineers (NACE) and the Society for Protective Coatings (SSPC). I had been involved with NACE from my first semester of undergrad in 2013 at The University of Akron. I initially served as a Student Ambassador, then a Student Member, and eventually the NACE Student Section Vice-Chair in 2018. It's an incredibly exciting experience to have gone from receiving scholarships at the AMPP Annual Conference as an undergraduate student to being on-stage presenting scholarship awards to current students.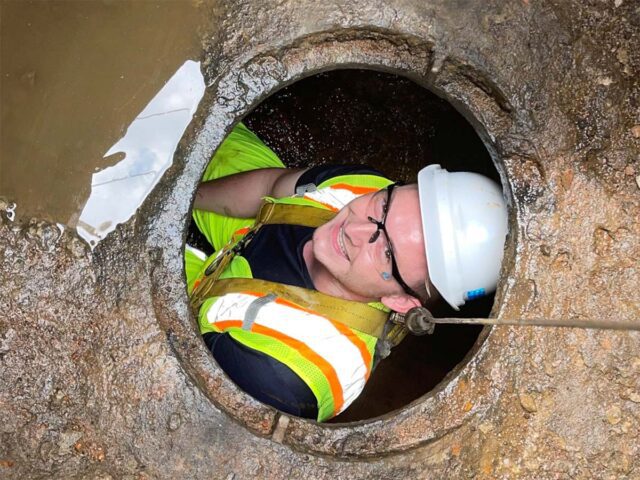 How does being a part of the organization help you in your career?
When I initially entered this industry as a corrosion engineering student, our legacy organization, NACE, was incredibly supportive and provided me with diverse experiences, resources, and countless opportunities, all of which helped me launch a solid career in the industry. I am blessed to have discovered my passion and niche and to have been supported throughout my entire journey. The resources and involvement in my professional society provided me the safety net to branch out and explore my passions, and not necessarily just "follow the money."
What does this award mean to you?
I am appreciative of the opportunity to assist with the merging of these organizations and to support our industry and help drive the direction of AMPP. It is more of a testament to the opportunities provided to students who are engaged in their professional societies and the pipeline from student to professional that organizations can provide. I believe that engaging young professionals, including college, vocational, and non-traditional students, are critical to creating a diverse, inclusive workforce and maintaining excellence in our engineering community.
What project are you working on right now?
I am currently working on the logistical planning for the inspection of carbon-fiber reinforced polymer repair sections in a 36-inch lined cylinder pipe potable water transmission main in Baltimore City. We will be traversing approximately 12,000 liner feet of water main, performing follow-up inspections on previously performed repairs on selected pipe segments. This will be my first experience navigating using a skateboard-like pipe crawler.
Ready to work with us? Let's get started.