Senior Project Delivery Leader Don Weber, PE recently joined RK&K, bringing 34 years of experience in land use, traffic and transportation engineering, planning, design, maintenance, and operations in both the public and private sectors to their Wilmington, Delaware office.
Weber served as Deputy Director for Operations and Support at the Delaware Department of Transportation. In this role, he coordinated efforts between operating divisions within the agency and developed and implemented the Department's strategic and long-range transportation plans and initiatives including resilience, sustainability, and innovation initiative.
Learn more about Weber and how he will use his expertise to help RK&K grow their work throughout the Mid-Atlantic region with the Q&A below.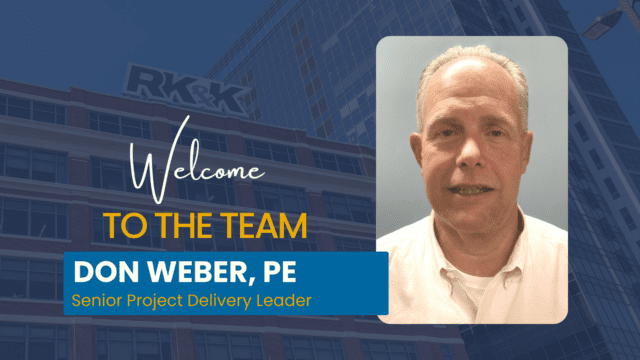 What is your role at RK&K, and when did you start?
I am a Senior Project Delivery Leader, and I started on January 3, 2023. I will be involved in traffic engineering, operations, and management activities among other responsibilities.
Why did you decide to join RK&K?
I worked with RK&K on numerous agreements, tasks, and assignments in my 23 years at the Delaware Department of Transportation (DelDOT) so was familiar with the key staff and the firms' capabilities.
What excites you most about your new team?
The opportunity to grow and develop younger staff and the ability to expand our footprint in traffic operations and management.
Describe yourself as a leader in three words.
Focused, supportive, and collaborative.
What do you enjoy most about engineering?
Simply, the ability to solve problems.
If you could visit anywhere in the universe, where would you go and why?
I'm low-key in that respect. Give me a beach chair, sunshine, waves, and my toes in the sand and you can place me anywhere.
Ready to work with us? Let's get started.