RK&K is continuing to highlight the firm's newest team leaders with a spotlight on Project Delivery Leader Ryan Wolfgang PE, CCM from our Virginia Beach, VA office! Ryan is an experienced construction project manager with over 17 years of experience working in the highway and aviation industries. He started with RK&K in 2005 supporting a multi-billion-dollar construction program in the Washington, DC area before transitioning to the Metropolitan Washington Airports Authority (MWAA). Ryan most recently held the position of MWAA Office of Engineering – Acting Construction Department Manager. Learn more about Ryan and what he is bringing to RK&K below.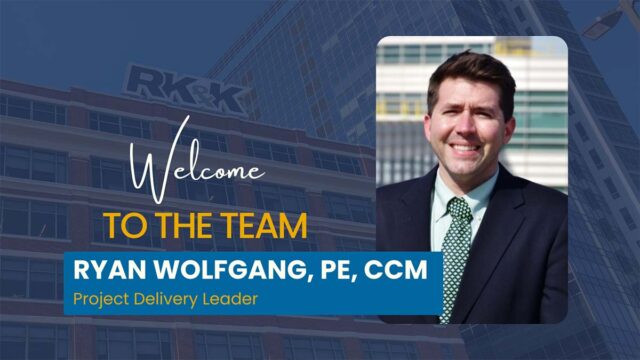 What is your role at RK&K, and when did you start?
I started in July 2022 and a Project Delivery Leader for the Construction Engineering & Inspection team in the Virginia Beach, VA office.
Why did you decide to join RK&K?
Being a rehire, I was very familiar with RK&K's principles as a firm and how employees are valued. RK&K was and still is a good fit for me.
What excites you most about your new team?
Meeting each of them and walking their project sites with them. Learning more about them, their skill sets, and professional motivations.
Describe yourself as a leader in three words.
Integrity, driven, attentive.
What do you enjoy most about engineering?
I was drawn to engineering likely for the same reasons why many others in the firm decided they wanted to become an engineer.  However, in the Construction Management field, it is the people and the personalities. You meet a lot of interesting people on a construction site!
If you could visit anywhere in the universe, where would you go and why?
The end of the universe if there is an end. I'd like to see it.
Ready to work with us? Let's get started.