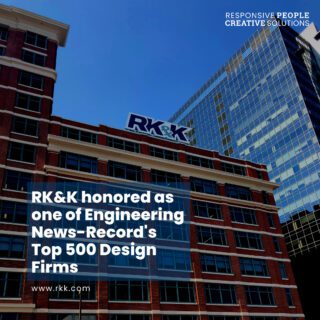 RK&K has again ranked among the best of the best in Engineering News-Record's (ENR) annual listing of the Top 500 Design Firms.
The Top 500 Design Firms list, published annually in April, ranks the 500 largest U.S.-based designs firms, both publicly and privately held, based on design-specific revenue. RK&K came in at #73 for the 2022 rankings. The firm was also named in ENR's Top 100 Pure Design firms, ranking #57 respectively.
For almost 100 years, RK&K has grown and flourished from a foundation of quality service, technical strength, and strong relationships, so we are grateful when these core tenets are realized and appreciated with honors such as this one.
The RK&K way is to harness our team's expertise and experience to bring successful, innovative projects to life across all the industries we serve, and we are excited and ready to do so for the next 100 years!
Learn more about the ranking and see the full list here.
---
ABOUT ENR:
Engineering News-Record is the construction industry's essential and trusted independent source of news and analysis. ENR's worldwide audience includes contractors, project owners, engineers, architects, government regulators and industry suppliers.
Ready to work with us? Let's get started.