Welcome Chris Simon, PE, CCM to our Construction Management team! As a new team leader, Chris brings over 16 years of managerial experience in the field of construction management, engineering, and inspection services. He has administered numerous small-to-large scale projects involving private, public, and government entities and has overseen all phases of construction paperwork, staffing, and inspection efforts from conception to completion on several Mid-Atlantic Regional projects. Learn more about Chris below!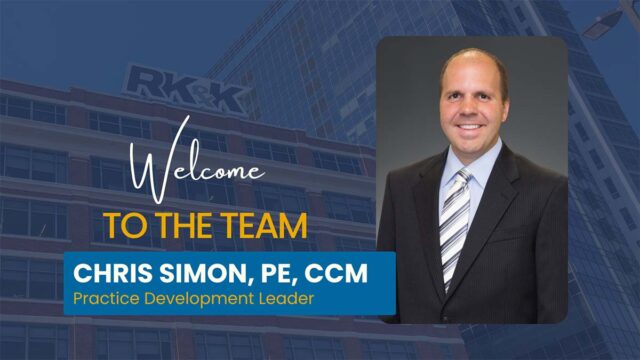 What is your role at RK&K, and when did you start?
I started in March 2022 and my title is Practice Development Leader for our Construction Management group.
Why did you decide to join RK&K?
The people! I've always been impressed with the quality of their work and the professionalism of the people when teaming with RK&K in the past.
What excites you most about your new team?
I am excited to help us grow and strengthen the RK&K team throughout the company.
Describe yourself as a leader in three words.
Assiduous, principled, and determined.
What do you enjoy most about engineering?
The process of engineering. Starting from the collective ideas, renderings, designs, calculations and then ultimately being constructed. Once the process is complete, being able to make a positive impact and improving the quality of life for the public.
If you could visit anywhere in the universe, where would you go and why?
I would like to go and explore other galaxies for signs of life!
Ready to work with us? Let's get started.