When I joined RK&K in May of this year I was tasked with a single goal – to expand RK&K's existing capabilities in Florida by building a water practice. The task of building a new practice in a highly competitive marketplace like Florida is a challenging one. As a partnership with a culture rooted deeply in collaboration and engagement that truly embraces agility and inspires entrepreneurship, I knew that RK&K had the right recipe for success. Founded in 1923, RK&K has grown steadily to become a powerhouse among privately-held engineering firms. With 22 offices from Pennsylvania to Florida and Texas, RK&K today employs more than 1,300 team members, is ranked 73rd on ENR's 2018 list of Top 500 Design Firms and 7th on ENR's list of Top Design Firms in the Mid-Atlantic. Since coming onboard, the strength behind RK&K's growth has become clear through the long list of award-winning projects and the firm's exceptionally strong reputation with clients. This week marks an important milestone for RK&K, as we are joined by Mike Waldron, PG and John Mayhut, PG – two well-respected hydrogeologists.
With 29 years of experience, Mike is a familiar face to clients throughout south Florida. His knack for finding common-sense, cost-effective and creative solutions is a perfect fit at RK&K. When I asked him why he decided to join me in building a water practice in Florida, Mike replied in his typical manner that, "it just made sense". First, he knew that his expertise and knowledge of wellfield performance, aquifer depletion, salinity intrusion, and water reclamation would be a perfect combination with RK&K's talented team of engineers. Second, he recognized that RK&K's approach to doing business would open up opportunities to creatively solve his client's most pressing problems.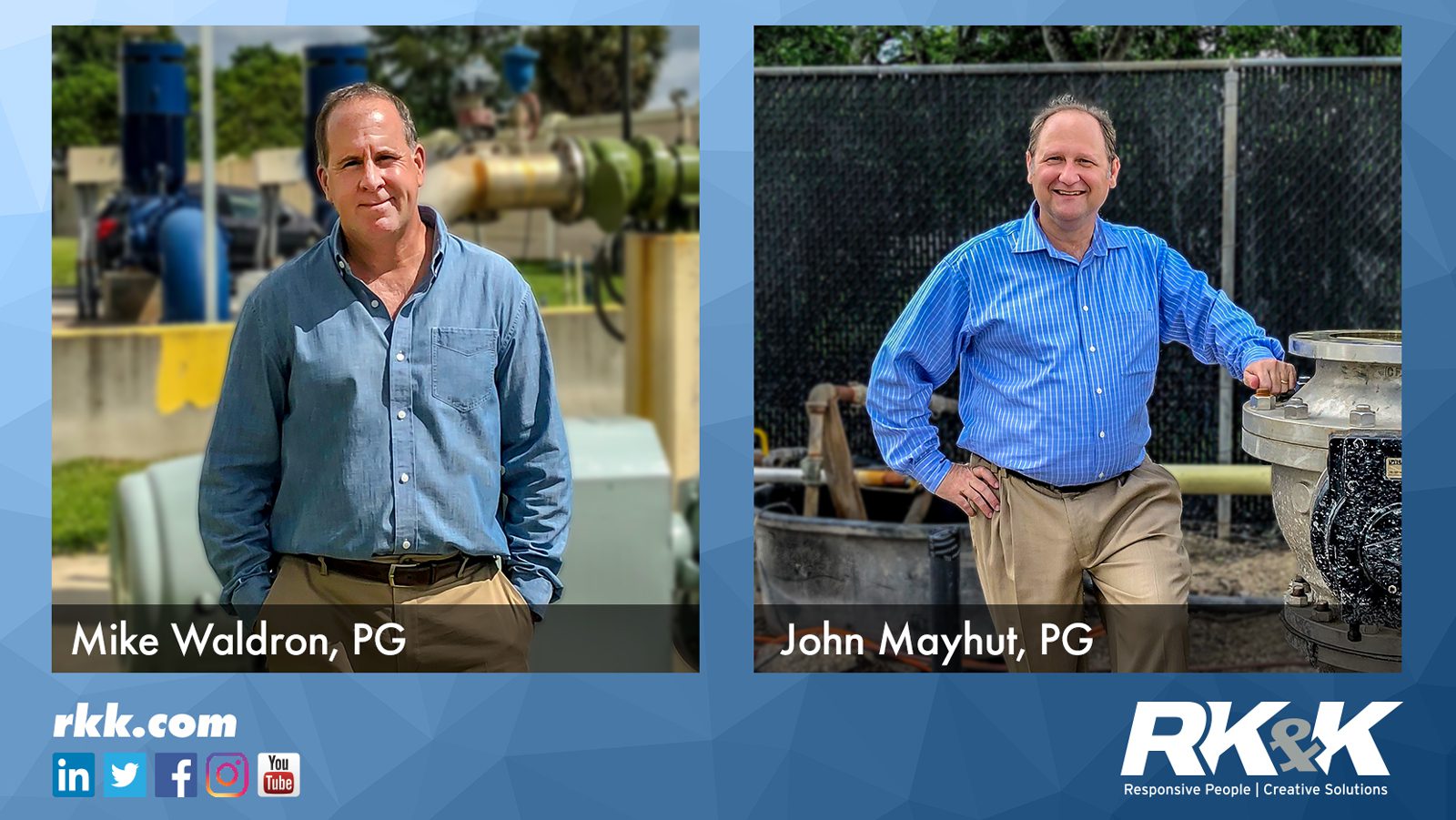 Based out of Fort Myers, John has more than 17 years of experience working with clients throughout southern Florida, with exceptionally deep relationships in the southwest corner of the state. John had been looking to join a firm where he could spread his wings and to take the knowledge and experience gained here in Florida to help clients elsewhere in the country solve new problems. At RK&K, John has found a firm that offered him the chance he had been looking for. He'll help build the water practice here in Florida, connecting us to his client base in southwest Florida, while also help establish a cohesive team of hydrogeologists throughout the firm. Since starting, John has jumped in head first and already become highly engaged with one of RK&K's top clients in Virginia, where his expertise in hydrogeology will be a critical part of solutions to important local issues, such as land subsidence and saltwater intrusion.
Municipal and utility clients across the state are facing challenges that are highly dynamic and growing in complexity. Meeting these challenges will require partnering with engineering firms that offer not only technical excellence but also the flexibility to respond as quickly as the challenges are changing. In today's world of mergers and acquisitions, engineering firms have become larger, slowing their ability to act swiftly, and making them less responsive. RK&K stand outs, as the firm's rapid growth has been driven not through acquisition but rather a focus on organic growth achieved through a strategy that seeks out the best talent and then empowers them to succeed.
When I started this journey, I was confident that RK&K's entrepreneurial philosophy and true agility in how business is done would be a refreshing, unique new choice for clients. I also recognized that the firm's culture of collaboration and engagement at all levels would attract the best and brightest to the team. Mike and John's joining the team is proof that this is a winning formula. It's a huge first step and I'm looking forward to the road ahead. At RK&K, our partners, leaders, and technical staff interact daily, creating opportunities to learn from one another, driving creative thought, and enhancing project outcomes we deliver to our clients. Responsive people, creative solutions. It's who we are and what we do.
Ready to work with us? Let's get started.