North Carolina is currently one of the top 10 states for rate of population growth. According to data from the U.S. Census Bureau, the Tar Heel State is going through its strongest rate of population growth since 2008-2009. According to data from the North Carolina Department of Commerce, the workforce around Asheville and western North Carolina, is expected to increase by 8.7% by 2030.
As the communities around western North Carolina grow, RK&K's Construction Management group continues to serve as a trusted partner, scaling with the community to be available to deliver solutions meeting the community's growing needs.
As an example, RK&K is providing Construction Engineering and Inspection (CEI) services on the $326 million, 7.5 mile I-26 widening and reconstruction project just south of Asheville for the North Carolina Department of Transportation (NCDOT). This project involves widening the interstate from two to four lanes in each direction greatly increasing capacity and improving safety and mobility along the corridor.
The project consists of widening, concrete paving, drainage, interchange improvements, a bridge over the French Broad River and a new 605-foot Blue Ridge Parkway segmental bridge is being constructed over I-26. Other work includes signalization and ITS, erosion control and traffic control. A staff of 27 (including a Resident Engineer, Assistant Resident Engineer, Office Technicians, Project Inspectors, and Technicians) is expected throughout the life of this project, which is currently projected to be complete in 2026.
Sixty miles southeast of Asheville, RK&K is the leading CEI firm on the $109 million Rutherfordton Bypass construction project on US 221 for NCDOT. This five-mile new location project will provide a four-lane divided highway to bypass the Town of Rutherfordton and includes 2.86 million cubic yards of excavation, approximately 47,000 feet of drainage pipe, paving, signals, three bridges, box culverts, retaining and noise walls, signs, pavement markings, and utility relocation.
RK&K's team of engineers and inspection staff oversee the contract administration and ensure the project is constructed in conformance to the NCDOT specifications, drawings, and plans.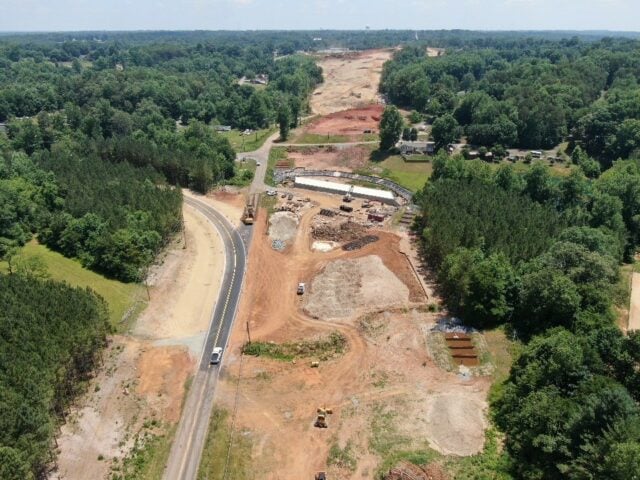 RK&K is also a major CEI subconsultant for the "A-9" project, referenced as "Corridor K" in the Appalachian Development Highway System. This project for NCDOT will improve US-129 in Robbinsville and the existing four-lane section on NC-28. This project is essential to meeting Congress's 1965 vision of a safe network of roads for the Appalachian region.
Our CEI team is providing roadway and structures construction engineering and inspection support services. This project features a unique section featuring a 200-foot-wide land bridge crossing NC-143 and will provide a "natural" passage for wildlife and a relocated section of the Appalachian Trail.
RK&K's recent office expansion in Asheville provides resources and support for the growing volume of work in this area. This includes a local CEI Manager and QA Manager, both dedicated exclusively to CEI projects in western North Carolina. Together, these leaders provide ongoing support and training for our folks in the field, ensuring each project is a success for our clients and the residents living and working within these communities.
Interested in partnering with us? Click on the following link to get started: https://www.rkk.com/contact/
About the Authors:
Jason Peterson, PE, CCM is a Director of Construction Management and RK&K's construction engineering and inspection manager for both North and South Carolina. He offers an extensive background in major transportation projects. He has been active in all aspects of the project delivery process, from planning and design through construction oversight and inspection to maintenance and asset management. Through years of CEI experience, Jason has gained long-term relationships with transportation stakeholders. He greatly understands NCDOT, local municipalities, state and federal agencies, and local utility companies. As NC/SC CEI Manager, he manages RK&K's Carolina CEI services and fully understands consultants' expectations regarding project management, inspection, documentation, and support services. Jason currently sits on the Transportation Research Board-AKC 30 Quality Management Committee and thoroughly understands quality assurance.
CEI Manager Ted Adams, PE serves the western North Carolina region, overseeing 60 technicians and engineers and managing three project specific CEI contracts. He is experienced in transportation and construction management, including federal, state, and municipal projects throughout the state. His expertise includes engineering, inspection, and supervision of the construction of roads, bridges, and retaining walls; field surveys; verification of compliance with plans and specifications; and audits of engineering processes. Ted also developed and instructed training for technicians and aided developing contract specifications and standards for NCDOT. 
You might also be interested in:
Ready to work with us? Let's get started.