RK&K welcomes Practice Development Leader Rick Liesse, P.E., F. NSPE to our Construction team! Rick's career includes more than 40 years of project management, construction management, and design experience for over $3 billion in public works engineering projects, including roads, bridges, highways, commuter rail, light rail, ports, airports, surveying, electrical line rights-of-way, and environmental studies. Learn more about Rick and what else he is bringing to RK&K below!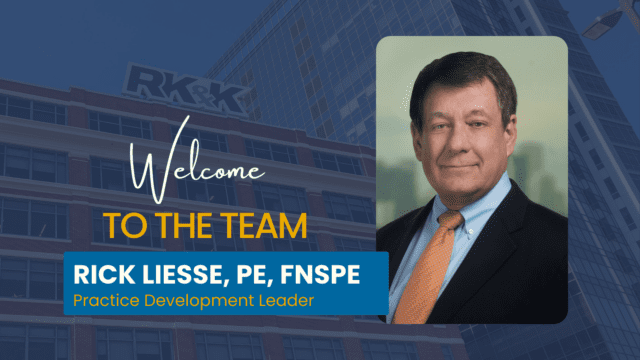 What is your role at RK&K, and when did you start?
I've been a Practice Development Leader for RK&K's Construction office since June 2022.
Why did you decide to join RK&K?
I was offered a role in Construction and accepted because I want to work with a great group of leaders in Texas.
What excites you most about your new team?
I am most excited about my leadership group in Texas, as well as working with the support group throughout RK&K.
Describe yourself as a leader in three words.
Honest, hands-off, and direct.
What do you enjoy most about engineering?
I love solving problems and building things.
If you could visit anywhere in the universe, where would you go and why?
New Zealand first, then any other planet.
Ready to work with us? Let's get started.