RK&K is proud to partner with Johns Hopkins University to create the RK&K/JHU Certificate in Project Management Program for RK&K employees at all locations. Hopkins' Masters-level, on-line Fundamentals of Project Management course has been customized for RK&K and is an important element in RK&K's commitment to build our team.
The newly created partnership with Johns Hopkins University, which began in January 2020, is the most recent addition to RK&K's portfolio of professional development opportunities offered to its team. RK&K provides a high-impact mentoring program, in-house and off-site professional development training, a Learning Management System, free membership in Toastmasters International, a Team Building/Building Leaders for Success Program, and a full-time Career and Leadership Development Manager.
"We are always seeking the next step in professional development opportunities for our team," said John Rinehart, Manager of Career and Leadership Development. "To partner with Johns Hopkins Whiting School of Engineering for this vital part of an engineer's education is ideal. The school's excellent reputation mirrors our commitment to the industry and the importance we place on continuous education for our employees."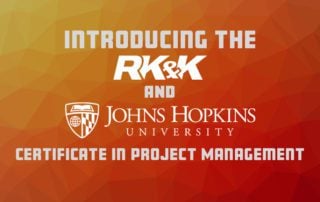 "We at the Engineering for Professionals program were thrilled at the opportunity to partner with RK&K to develop the project management certificate," said Daniel Horn, Ph.D., Associate Dean, Johns Hopkins Whiting School of Engineering. "It was clear to us from the beginning that RK&K took professional development very seriously, and this notion was only reinforced during the many sessions we held to co-design this course. The fact that RK&K has a strong Baltimore presence deepened our motivation to build a high-quality product."
What some members of the first class are saying:
"Any opportunity that allows me to continue to grow my leadership and communications skills excites me," said Tara Cutillo, PE, Project Manager – Baltimore Transportation department. "These are the skills that have played an important role in my ability to lead a strong team of designers and engineers. I've been lucky to have found a home with RK&K, a company that believes in investing in its employees. This has been one of the main reasons that RK&K has and continues to be where I choose to develop my career."
"I am confident that the skills and information related to corporations and work structures, effective communication, passionate leadership, risk management and liability, and finance and contract language that I will develop within this program will allow me to provide continued value, growth, and protection to RK&K and our clients," said Matt Slagel, PE, DBIA, Project Manager – Water Resources. "I am excited to further my personal development of the skills necessary to advance RK&K's reputation as an industry leader within our strategic markets and to increase the value of the continued mentorship provided to my fellow RK&K colleagues."
"I have spent part of my career managing projects from a leadership standpoint but have felt that I may have missed out on some the basics," said Amanda Glynn, Project Manager – Construction Inspection/Field. "This program will let me delve into the key components of project manager from start to finish. I've seen great project managers in multiple industries work their way up from the field level. This program will help me fill in any gaps in my career path. I think it's great that RK&K is investing in its people by providing this unique training opportunity."
Ready to work with us? Let's get started.